1950 and 1960s MUSIC GROUPS (L, M & N's)
This post is related to the artists and musical groups from the 1950s and 1960s that have the letters "L, M & N" as the first letter of their last name. These nine artists/groups make up continuing examples of why this time period is the greatest all time era for music: Jimmy Liggins, Manfred Mann, The Marvelettes, Mamas & the Papas, Johnny Mercer, The Monkeys, Moody Blues, Van Morrison and Willie Nelson.
Jimmy Liggins (born James L. Elliott; October 14, 1918 – July 21, 1983) was an American R&B guitarist and bandleader. His brother was the more commercially successful R&B/blues pianist, Joe Liggins.
The son of Harriett and Elijah Elliott, he was born in Newby, Oklahoma, United States, and adopted his stepfather's surname, Liggins, as a child. He moved with his family to San Diego, California in 1932, and graduated from Hoover High School. He fought under the name of Kid Zulu as a professional boxer until age 18, when he began as a driver for his brother Joe's band, the Honeydrippers.
Liggins started his own recording career as a singer, guitarist, and leader of the Drops of Joy, on Art Rupe's Specialty label in 1947. One of his early releases, "Cadillac Boogie" was a direct forerunner of "Rocket 88", itself often called the first rock and roll record. Recordings such as "Tear Drop Blues" (1948) and, later, "I Ain't Drunk" (1954), featuring leading saxophone players such as Maxwell Davis, made him one of the most successful bandleaders in the jump blues period of the late 1940s and early 1950s. In 1954 he released "Boogie Woogie King." (https://youtu.be/dgfQjII4Tso) (RQ 10).
Liggins left Specialty in 1954, recording "I Ain't Drunk" (1954), later covered by Albert Collins, at Aladdin, before fading from the scene. He began his own management and record company Duplex Records in 1958. His wild stage presence and manic delivery influenced Little Richard, Chuck Berry, Bill Haley and Elvis Presley.
Mann, Manfred. 1962-69
Formed in London in 1962 by Mann. They had two different lead singers: Paul Jones from 1962-66 and Mike d'Abo from 1966-69. The other band members were: Dave Berry, Klaus Voorman and Mike Hugg. Their most successful recordings were:
"Do Wah Ditty Ditty" (https://youtu.be/43vOAw2sAFU) (RQ 10)
"Pretty Flamingo" (https://youtu.be/sTxzmLyVFYY) (RQ 8)
"Mighty Quinn" (https://youtu.be/K13hH0pJx5s). (RQ 8) Topped the UK singles chart.
They were asked to come up with a theme song for tv show called Ready, Steady Go. They came up with: "5-4-3-2-1" (https://youtu.be/1PM5McR-STA) (RQ 5). The song made it to No5 in the UK. Then they produced two more records: a girl group cover "Sha La La" (https://youtu.be/Xz2CXDFmz5w) (RQ 7) and "Come Tomorrow" (https://youtu.be/tBQ_nJGXaB0) (RQ 9). They turned to jazz and R&B themes on their albums. They utilized a couple of Bob Dylan's songs: "The One in the Middle" (https://youtu.be/iw2YBdAQCHg) (RQ 6) and "With God on Our Side" (https://youtu.be/c53RqNwogQI) (RQ 6). One of their last hits was: "If You Gotta Go, Go Now" (https://youtu.be/DyAWVICAwqg) (RQ 4). Frustrated with the limitations and image of being seen as a hit singles band (their last two albums failed to chart), the group split in 1969.
Marvelettes, The 1960-70
The group got its start in Inkster, MI in 1960. The band members were schoolmates: Gladys Horton, Katherine Anderson, Georgeanna Tillman, Juanita Cowart and Wanda Young. Their first single: "Please Mr. Postman" (https://youtu.be/425GpjTSlS4) (RQ 10) turning made No1 was the first successful recording by an all female group on Motown. In 1966, they had another hit single: "Don't Mess Around with Bill" (https://youtu.be/OVsW_6AomOQ) (RQ 7). Both Postman and Mess Around were million dollar selling records. They were having an intense rivalry with the Supremes. Then, they started having turnover problems with Cowart, Tillman and Horton leaving between 1963-67. They also struggled with health problems and substance abuse. Even so, they were inducted into the Vocal and Rhythm and Blues HOF.
Momas & Papas 1965-68
Out of the LA area, they were an American folk rock vocal group and were a part of the counterculture of the 1960s. The members were: John Phillips (songwriter and leader), Denny Doherty, Cass Elliot and Michelle Philips (born Holly Gilliam). The group released five studio albums, and seventeen singles over four years (six of which made Billboard's Top10). They sold close to 40M records worldwide. They had several key singles that charted including:
"Go Where You Want to Go" (https://youtu.be/wSL1yWOhHoQ) (RQ 10).
"California Dreamin." (https://youtu.be/22OcnjgKhJI) (RQ 9)
In 1966, they recorded "Monday, Monday" (https://youtu.be/h81Ojd3d2rY) (RQ 10) which was rated No1 and also won a Grammy Award.
At this point in time Michelle had an affair with Gene Clark, a member of the Bryds. Ultimately this led to having her expelled from the group on June 28, 1966. This was the beginning of the group disbanding.
John Herndon Mercer (November 18, 1909 – June 25, 1976) was an American lyricist, songwriter, and singer. He was also a record label executive who co-founded Capitol Records with music industry businessmen Buddy DeSylva and Glenn E. Wallichs. He is best known as a Tin Pan Alley lyricist, but he also composed music. He was also a popular singer who recorded his own songs as well as songs written by others from the mid-1930s through the mid-1950s. Mercer's songs were among the most successful hits of the time, including:
"Moon River" (https://youtu.be/PB2x7WYzBrg) (RQ 10).
"Days of Wine and Roses" (https://youtu.be/e4wNfMWf3Ok) (RQ 10).
"Autumn Leaves" (https://youtu.be/i6e1-2yxQPs) (RQ 10).
"Hooray for Hollywood" (https://youtu.be/gMJ3XQ3iUSc) (RQ 10). By Rosemary Clooney.
He wrote the lyrics to more than 1,500 songs, including compositions for movies and Broadway shows. He received nineteen Oscar nominations, and won four Best Original Song Oscars.
Monkeys, The (1966-71)
The group was conceived by tv producers Rob Rafelson and Bert Schneider in 1965. The American actors and singers were: Mickey Dolenz, Michael Nesmith, Peter Tork and Davy Jones. The group was recruited to do the situation comedy tv series called "The Monkeys." The program aired from 1966-68. When the show was cancelled in 1968, the group continued to record music until 1971. Due to the success of the show, they were regarded as one of the most successful bands of the 1960s. They had four top hits:
"Last Train to Clarksville" (https://youtu.be/ZcXpKiY2MXE) (RQ 10)
"Pleasant Valley Sunday" (https://youtu.be/sUzs5dlLrm0) (RQ 8)
"Daydream Believer" (https://youtu.be/xvqeSJlgaNk) (RQ 10)
"I'm a Believer." (https://youtu.be/wB9YIsKIEbA) (RQ 10)
They sold more than 75M records worldwide (newspapers and magazines reported that they outsold the Beatles and Rolling Stones combined in 1967!). Were inducted into the U. S. Pop Music HOF in 2014.
Moody Blues. 1964-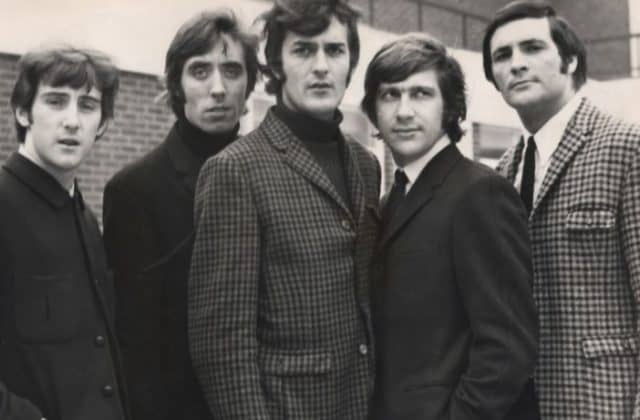 Group was formed in Birmingham, England in 1964. The group played rhythm and blues and the band members were: Mike Pinder (keyboard), Ray Thomas (multi-instruments), Justin Hayward (lead guitar), Graham Edge (drummer) and John Lodge (bass). They, to date, have been snubbed by the Hall of Fame.
Their second album: "Days of Future Passed" "The Day Begins" (https://youtu.be/4N8klQ3WW0U) (RQ 7) established them in art and progressive rock. In 1978, Pinder left and Swiss keyboarder Patrick Moraz replaced him. The "organ-type" of music was the group's trademark. The group produced five top singles:
"Go Now" (https://youtu.be/SN2fOgfFnDo). (RQ 9)
"Nights in White Satin" (https://youtu.be/9muzyOd4Lh8) (RQ 10)
"Tuesday Afternoon" (https://youtu.be/GEMuAnFH_lM) (RQ 10)
"Question" (https://youtu.be/NP9iOqdxS8c). (RQ 7)
"Your Wildest Dreams" (https://youtu.be/kmmPFrkuPq0) (RQ 8)
The group sold more than 70M records worldwide. They were inducted in the Rock and Roll HOF in 2018.
Morrison, Van (& Them) 1958-
Morrison is from northern Ireland. He grew up playing a variety of instruments (guitar, harmonica, keyboard and saxophone). He played regularly in Irish show bands. He rose to prominence in the mid 60s as the lead singer for the group called " Them ." He recorded the classic rock song "Gloria" (https://youtu.be/VlWiQ69DGE0) (RQ 10) as well as "Brown-Eyed Girl" (https://youtu.be/UfmkgQRmmeE) (RQ 10) in 1967.
His albums:
"Astral Weeks" (https://youtu.be/vDgyJbc66tI). (RQ 8)
"Moondance" (https://youtu.be/6lFxGBB4UGU). (RQ 10)
"Too Late to Stop Now" "Ain't Nothin You Can Do" (https://youtu.be/Vtn4ufLtCvE) (RQ 7)
The albums established him as a major artist. He has received two Grammy Awards, been inducted into the Rock & Roll and Songwriters HOFs and in 2017 was recognized with a American Lifetime Achievement Award.
WILLIE NELSON (1933 – Present)
Willie's career started to mushroom in 1960. He began writing music for other singers which became very successful. In addition to "Crazy" (https://youtu.be/MbnrdCS57d0) (RQ 10) years for Patsy Cline, he also wrote "Funny How Time Slips Away" (https://youtu.be/JTzQhr6AQdM) (RQ 10) for Billy Walker and "Pretty Paper" (https://youtu.be/Knj9jg6TuDY) (RQ 7) for Roy Orbison.
In 1961, he wrote his first charted single at No10: "Touch Me" (https://youtu.be/EWelKor5ZUM) (RQ 9). By 1965, while in Nashville, he joined the Grand Ole Opry. In 1966 and 1967, his singles "One in a Row" (https://youtu.be/tfvoqJMVgjc) (RQ 6) and "The Party's Over" (https://youtu.be/QoQZ0qmf-mk) (RQ 9) reached the Top25.
In 1972, primarily due to unsuccessful album sales, he prematurely retired from music. He resurrected his career in Austin, TX where he landed the first country artist contract for Atlantic Records. In 1973, he recorded "Shotgun Willie" (https://youtu.be/eK-7k8MHvnE) (RQ7) which failed to sell. Then in 1974 he wrote the hit "Bloody Mary Morning" (https://youtu.be/Qn8A72wnOZM) (RQ 6).
After moving over to Columbia Records in 1975, he recorded the massively popular "Red Headed Stranger" (https://youtu.be/wuyzrqEA2DQ) (RQ 8). Then, with Waylon Jennings, using only a guitar and piano for accompaniment, they recorded another hit: "Blue Eyes Crying in the Rain" (https://youtu.be/JA644rSZX1A) (RQ 10). This became Willier's first No1 hit.
In the later 1970s, Nelson produced four more single hits:
"Good Hearted Woman" (https://youtu.be/5tcBXUWlxEQ) (RQ 8)
"Remember Me" (https://youtu.be/P4mpTG1-dBc) (RQ 10)
"If You've Got the Money, I've Got the Time" (https://youtu.be/NVphs8eP6c4) (RQ 8)
"Uncloudy Day" (https://youtu.be/w1-DHepnVLs) (RQ 8)
In the early 1980s, Willie produced three more hits records:
"Midnight Rider" (https://youtu.be/pP8xC73_LY8) (RQ 9)
"On the Road Again" (https://youtu.be/dBN86y30Ufc) (RQ 10)
"To All the Girls I've Loved Before" Duet with Julio Iglesias (https://youtu.be/_YoQbKWTNLo). (RQ 10)
These were followed up by: "Always On My Mind" (https://youtu.be/R7f189Z0v0Y). (RQ 10). The song won three Grammys.
The 1990s were overshadowed by the negative effects of the IRS claiming Nelson owed $32 million in back taxes (which was negotiated down by his attorney to $6 million).